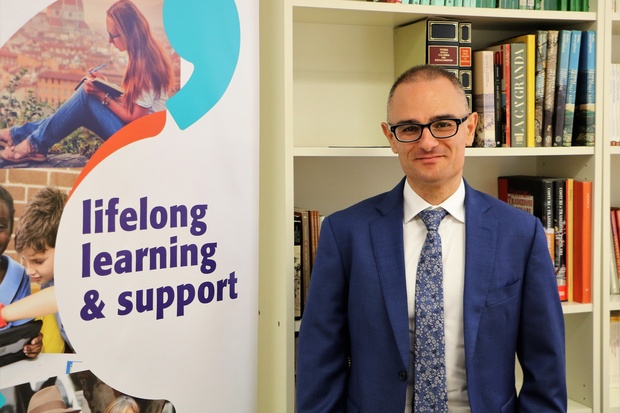 This month, CO.AS.IT. will launch a new location in Sydney CBD, having assumed operation of the Italian Language School which was previously operated by the Dante Alighieri Society.
The Dante Alighieri Society in Sydney is a pre-eminent Italian cultural organisation forming part of an international network which works to advance Italian language and culture worldwide.
"Closing our school was a hard and difficult decision," Dante Alighieri Society President Fabio Carosone said.
"However, we are pleased to say that the Society will continue organising cultural events and conferences as it has done since its foundation in Sydney in 1896."
The Dante Alighieri Society looked to CO.AS.IT. to assume the operation of its language school.
Carosone worked closely with General Manager of CO.AS.IT. Thomas Camporeale to reach an agreement on the CBD location.
"We feel that we are placing our CBD location in safe hands, in the knowledge that CO.AS.IT. will continue our work in promoting Italian language and culture in Sydney, as they have done for over 50 years," Carosone said.
"This is a great outcome for everyone involved."
CO.AS.IT. will be taking over the lease of the property on Level 3, 104 Bathurst Street, and will commence teaching of the term one Italian classes which are currently run out of this office.
CO.AS.IT. Learning Services Manager Sara Villella said that the changeover had been effectively communicated to students.
"We have met with all the students and communicated the transition from Dante Alighieri Society to CO.AS.IT. and it was very well received," she said.
This is CO.AS.IT.'s third location, as it builds on its ever-expanding service to the Italian community in NSW.
CO.AS.IT.'s head office will remain in Leichhardt, "the heart of little Italy", with its second campus at the Italian Bilingual Primary School in Meadowbank.
Its language services also extend via the Out-of School Hours Italian Language & Cultural Program, which is facilitated across 15 centres in NSW, reaching as far as Newcastle.
Its community services are provided at 19 centres across NSW, with a new centre recently opening in Bonnyrigg to meet the needs of the local community.
These are just some of the many services CO.AS.IT. offers to the community.
"We are pleased that we have come to an agreement with the Dante Alighieri Society," CO.AS.IT. President Lorenzo Fazzini said.
"We share the same goal of promoting the Italian language and with our years of experience we will continue to offer a high level of quality service to the Italian community."
CO.AS.IT. will be offering Italian classes in this new location with their qualified, native teachers and is exploring the opportunity of offering a range of other language and community services, such as private Italian lessons and counselling services in Italian.
"As a community organisation we recognise that the Dante Alighieri Society is an important part of Italian culture and we are excited to assume responsibility for this specific centre," Camporeale said.
"The infrastructure that CO.AS.IT. has established over 50 years will make this a very smooth transition.
"We are also looking at expanding the services that are accessible in this location."