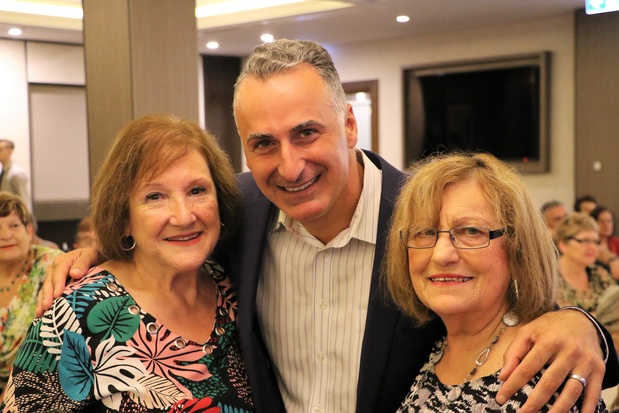 CO.AS.IT. recently hosted two sold out Italian concerts to celebrate the NSW Seniors Festival, the largest festival for seniors in the southern hemisphere, reaching up to 500,000 participants each year.
The concerts were hosted across two days in two locations: the Canada Bay Club and the Burwood RSL.
Radio personality Paolo Rajo had the crowd in stiches, while performances from Grace Rizzo and Arturo Toscani had everyone up on their feet dancing and singing along.
"We have celebrated the NSW Seniors Festival in the best way we know how – through the tradition of music and having a good time," Thomas Camporeale, General Manager of CO.AS.IT., said.
"With over 800 in attendance across both concerts we were very happy with the outcome."
This festival is a state-wide initiative which celebrates and acknowledges the contribution that seniors make to the community.
If you are over 60, the NSW Seniors Festival gives you the chance to make new friends or get together with old ones at an array of local community events, many which are free or heavily discounted.
"For CO.AS.IT., the NSW Seniors Festival has a dual significance," Camporeale said.
"We celebrate the ongoing valuable contribution that seniors make to their families and to their communities, but we also celebrate the migration experience – the stories of hardship and success.
"We recognise the struggle that our mothers and fathers with their families have made in order to land on the shores of Australia.
"It is this 'can-do attitude' that has given the Italian community the prominence that it enjoys in the wider Australian context."
The NSW Department of Family and Community Services provided CO.AS.IT. with a grant to put towards hosting these events.
John Sidoti MP, Member for Drummoyne, was present at the event.
"Our community would be lost if it weren't for CO.AS.IT.," Sidoti said.
"There is no greater example of service to a multicultural community in this state.
"Today we must say thank you to CO.AS.IT. staff and volunteers for the exceptional work and standard they have set for multicultural NSW. Well done!"
CO.AS.IT. offers a range of services to the senior community including Social Support Groups, Community Visitors Scheme, Home Care Packages, Mental Health, Gambling Help and Drug and Alcohol Programs.
For more information about any of these services or upcoming social events, contact CO.AS.IT. on (02) 9564 0744.