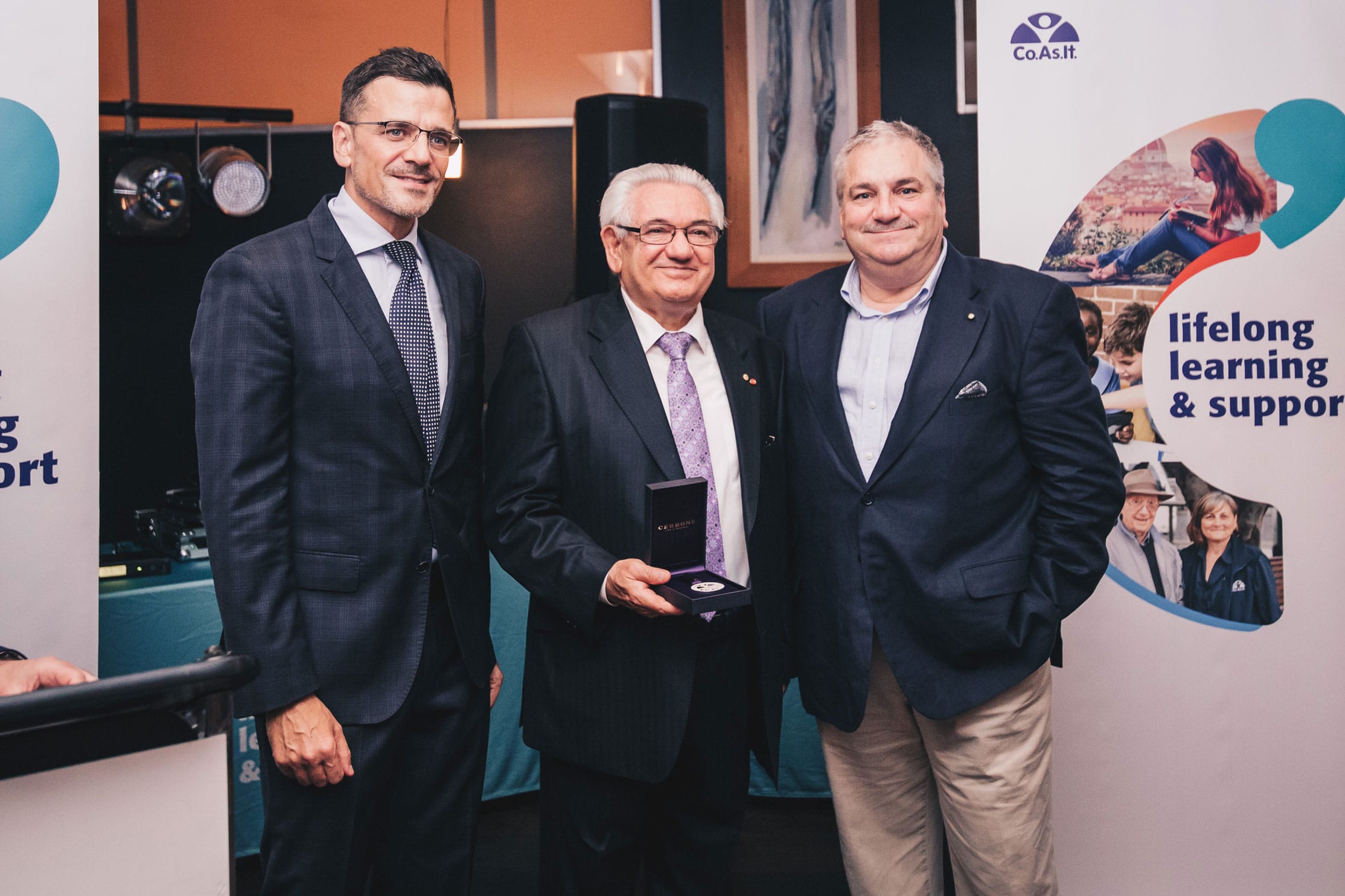 The Co.As.It. Medal was awarded to multiple recipients: Anthony Mustaca, Giuseppe Murgida and Antonio Velardi, for their outstanding contribution in the area of community services.
The Co.As.It. Medal was presented at Co.As.It. End of Year function which was hosted at Grappa Ristorante in Leichhardt. The event was attended by Co.As.It. staff and members with special guests; Italian Consul General, Dott. Andrea De Felip, Inner West Mayor Darcy Byrne, Mr Guy Zangari MP, former President of Co.As.It. Pino Migliorino and current members of the Co.As.It. Board.
In 1992 the Board of Directors inaugurated the annual award of the Co.As.It. Medal in commemoration of Mr. Tom Giuffré a founding member of Co.As.It. and its first and long standing President. The Medal is awarded to any individual who has made outstanding or meritorious contribution, service, promotion, or assistance to the Italian community in NSW.
Anthony Mustaca – Anthony began his career as an educator. He taught in numerous schools and held various executive school positions including Senior Education officer in Curriculum Development K-12.
Anthony was elected to Willoughby City Council in 1995 and is still serving as Deputy Mayor.
Mr Mustaca has held numerous voluntary positions which have seen him contribute extensively to the Italian and broader community including:
Vice President, Italian National Day Committee
Founding Chairman- Education for Disadvantaged Children Council (Board Member Dougherty Apartments (Community Housing Lower North Shore where numerous seniors of Italian origin reside)
Member World Youth Day Vatican Contingency Assistance Program
Association of Italian Workers Abroad Willoughby (1995-2012)
Chairman of the Willoughby City Council Global Friendship Committee from 2004 – 2015
Honorary Secretary Italian Community Ministerial Consultative Committee
Founder of the Italy-Australia Friendship Association, which aims to promote Italian culture.
Mr Mustaca is a recognised and respected member of the community and has supported Co.As.It. over many years.
Giuseppe Murgida – Mr Murgida has dedicated a significant portion of his life to the promotion appreciation and preservation of the Italian culture. He has provided translation and language services to countless people within the Italian community who do not have a support network, particularly in the areas where many Italians experience barriers such as dealing with legal documents.
He has assisted people to avoid isolation by promoting participation in theatre groups, festivals and many cultural events. Giuseppe has also helped to promote connection with Italy by promoting cultural exchange tours to Sicily aimed at young people of Sicilian origin.
Antonio Velardi – Mr Velardi was a generous and trustworthy Italian immigrant. His charitable and reliable personality was the reason why Padre Nevio decided to offer him a managerial role in the blooming Scalabrini village in Bexley.
On his appointment as manager, Antonio formed a group of volunteers to organise events, including birthday parties, for the residents.
For over 50 years, Antonio was a member of the Italian Catholic Federation. As treasurer, Antonio gained the respect of many Italians residing in neighbouring areas. Many Italians discovered the Italian Catholic Federation thanks to his hard work within the organisation. The church of St Therese in Mascot became the second home for many of those Italians, a place where they spent quality time with friends. Antonio always advocated that social events within the federation be organized in dedication to Italian culture. Given Antonio's commitment and the interest of the Scalabrini fathers, the church of St Therese began to celebrate mass in Italian as well.
Antonio died in October 2019. Accepting the medal on his behalf was his wife, Maria.
"It gives me great pleasure to present the Co.As.It. Medal to these three recipients. They have demonstrated the true values of Co.As.It. and similar to our organisation they have made an enormous difference in people's lives. We celebrate and recognise their hard work, dedication and passion for the Italian community", says Thomas Camporeale, Co.As.It. General Manager.
The board of Co.As.It. also awarded a fourth Medal to Wilma Stagni. Unfortunately she was unable to attend the event.
Wilma Stagni – Ms Stagni has dedicated many years to volunteering in the Illawarra, including supporting ITSOWL and assisting in making costumes for children's dance performances. Ms Stagni has also supported the older community, including those living with dementia, by preparing meals at day centres. She is regarded as a generous and caring person who brings joy to those around her.