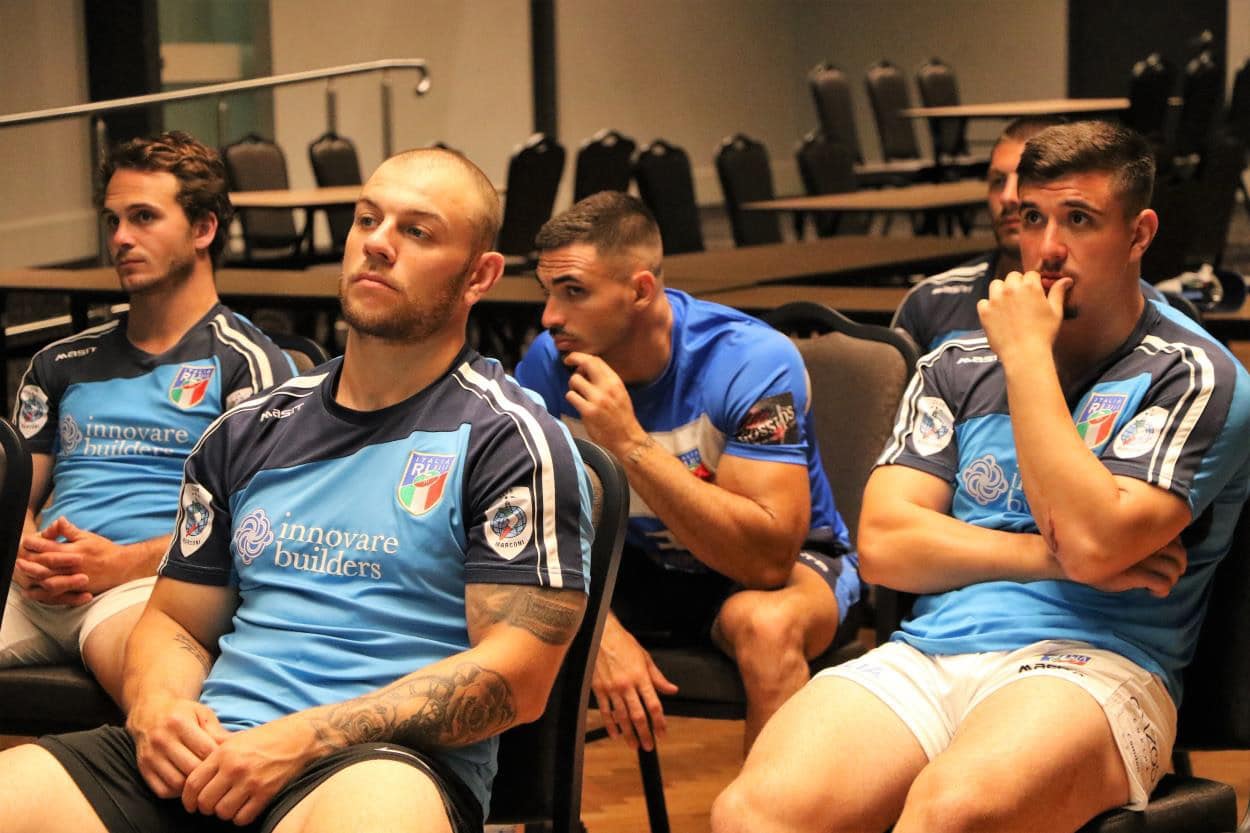 CO.AS.IT. Sydney has formed a partnership with the Federazione Italiana Rugby League (FIRL), to be the official Cultural Partner of the FIRL in the lead up to the next Rugby League World Cup (RLWC), which is scheduled to be held in England in 2021.
CO.AS.IT. was approached by the FIRL's head coach, Leo Epifania, with the aim of establishing a cultural program that would help Italo-Australian players gain a better understating of their Italian heritage and culture.
Epifania, whose family hails from Calabria, has a very strong connection to his heritage and would like his players to show the same pride when they put on the Azzurri jersey.
"The aim of this cultural program is for the players to understand the journey of their family from Italy to Australia and to give them an insight into the hardships and struggles they faced," Epifania said.
The general manager of CO.AS.IT., Thomas Camporeale, met with Epifania and his team to identify the goals of this program and outline how CO.AS.IT. and the FIRL will work together to achieve them.
As the leading Italian community organisation in Australia, CO.AS.IT. was the perfect choice for this cultural partnership.
"We are very happy to be partnering with Leo and FIRL on this cultural program," Camporeale said.
"Leo's passion for this program is very infectious and we feel that the players will enjoy the process of connecting to their heritage and culture."
CO.AS.IT. hosted the first Italian Heritage & Culture Workshop at a recent FIRL training camp, held on November 21 and 22 at Club Marconi.
The players were highly engaged in the workshops, which explored Italian migration to Australia and the community's contribution to Australian society.
Players were also very eager to share their personal family stories.
"It was great to see players forming connections with stories of Italian migrants through their personal family experiences," Camporeale said.
"We feel that this program will be of great value to the team and will help instil a great sense of pride among the players, which in turn will help them to stand taller and stronger when they run out onto the field at the Rugby League World Cup."
Epifania works closely with the FIRL's president, Orazio D'aro, in developing programs which bring together all the players in the Italian squad.
Players are based in various locations in Australia, Italy and across Europe, and these programs help to keep the squad connected and united.
The FIRL established a sub-committee to assist players of Italian heritage in Australia and to provide support to Italian Rugby League and its growth and development in Italy.
The FIRL is proud to have had a number of players with Italian heritage in Australia who have commenced their careers representing Italy at an international level.
Players such as Anthony Minichiello, James Tedesco, Daniel Alvaro, Nathan Brown and Joseph Tramontana have all worn the famous Azzurri jersey.
"We look forward to a long-term partnership with CO.AS.IT. as we feel that this connection to our Italian culture and heritage is pivotal to the success of the team," Epifania said.
"We must always respect the jersey and what it represents."