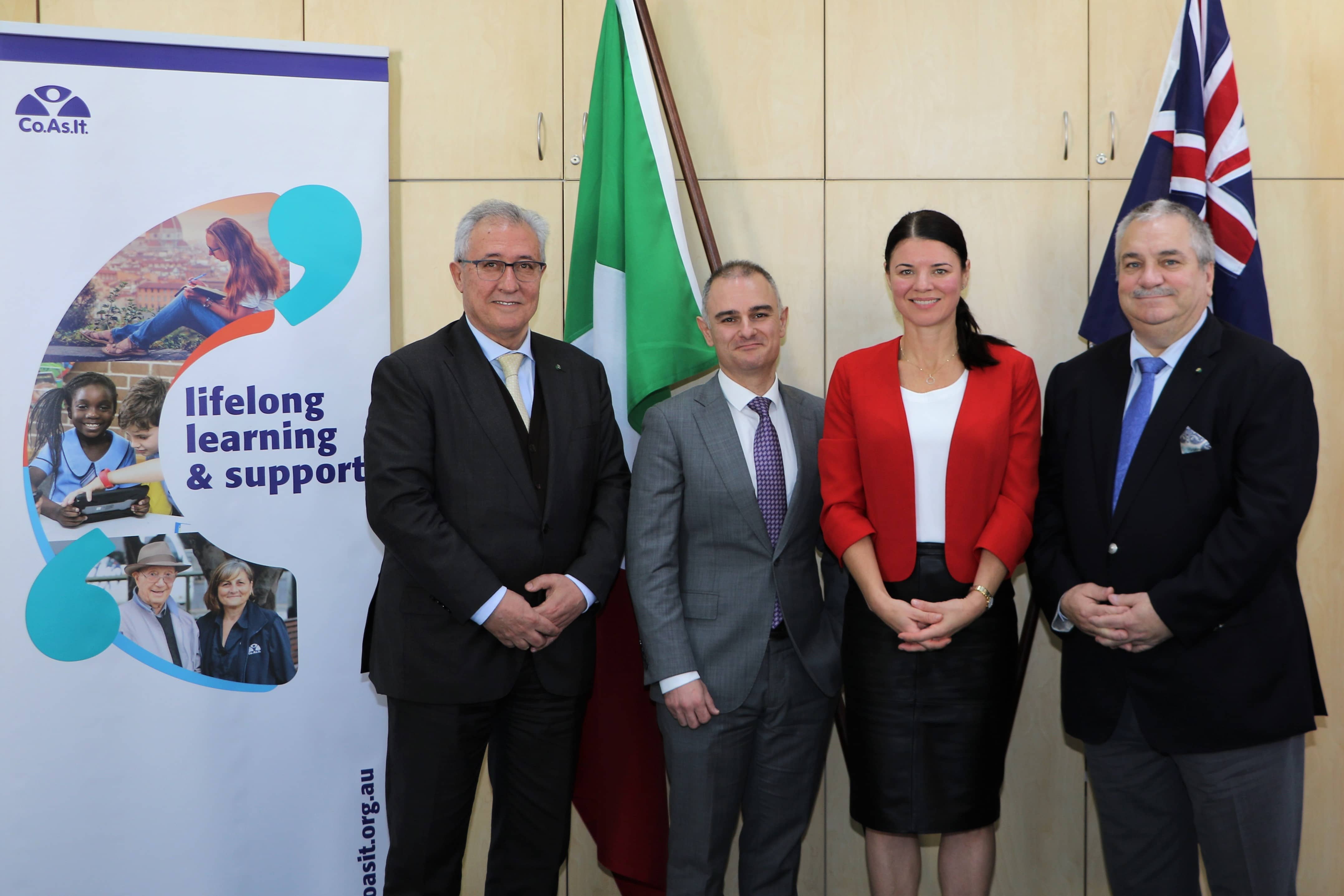 Dr Fiona Martin MP Federal Member for Reid, New South Wales, visited the leading Italian community organisation in NSW, Co.As.It.
Dr Martin was accompanied by the Hon. Senator Dr Francesco Giacobbe (representative in Italian Parliament, of Italian citizens living in Oceania, Asia, Africa and Antarctica), and met with Co.As.It. President, Lorenzo Fazzini, Co.As.It. General Manager, Thomas Camporeale, and members of the Co.As.It. management team.
Dr Martin was very interested to explore the many services Co.As.It. offers to the Italian community. Based on the data from the Australian Bureau of Statistics, Italian Ancestries is one of the most common ancestries in Reid (Commonwealth Electoral Divisions) with 16,860 of the people identifying as Italian. There are also 7,881 which identify Italian as the language spoken at home. 
Dr Martin, who was elected to the House of Representatives for Reid in 2019, expressed a wealth of knowledge in the areas of Aged Care, Mental Health and Education and was keen to hear feedback from the Co.As.It. team on their thoughts and experiences in these areas, with the aim of ongoing improvements. 
"Great to learn more about the services that Co.As.It. offer our community. They're an organisation with 50 years of experiences in the CALD community services sector", said Federal Member for Reid, Dr Fiona Martin MP.
Co.As.It., who has been serving the community since 1968, receives funding for a number of their community programs from both the state and federal government, and has always been a strong advocate for the CALD community and recognised as a prominent community organisation in multicultural NSW.  
"We look forward to working with Fiona to continue to offer these crucial services to our Italian community. We already offer our services to many residents in the areas of Five Dock, Wareemba, Concord, Canada Bay, etc and we hope to develop a long lasting relationship with the member for Reid to continue to serve this community", said Co.As.It. President, Lorenzo Fazzini.