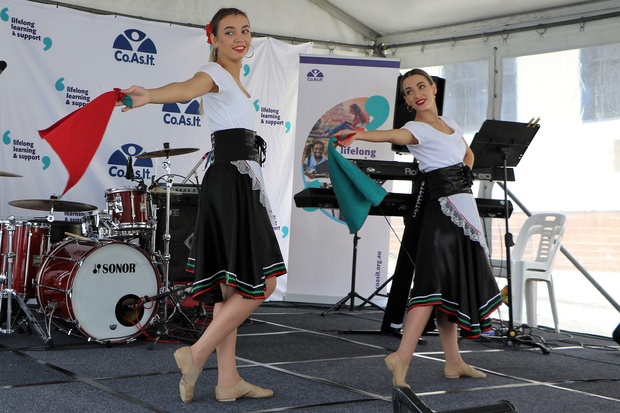 On Sunday, October 28, over 150,000 visitors descended upon Leichhardt for the annual Norton Street Italian Festa, which was proudly sponsored by the Inner West Council with CO.AS.IT. as the Platinum Sponsor.
Now in its 32nd year, the festival, which is one of the largest Italian street parties in Australia, unites people of all backgrounds for a taste of the Italian language and culture.
With a diverse mix of live entertainment, food stalls, cooking demonstrations, car displays, roving performers and kid's activities, it was a family-friendly event where everyone could enjoy being "Italian for a day".
The CO.AS.IT. stage featured TV stars Cosima De Vito from Australian Idol, Chris Ninni and Leo Abissab from The Voice, who delighted the crowds with performances in English and Italian.
MC and Melbourne based comedian James Liotta kept the crowd laughing as local Italian performers Arturo Toscani, Sylvana Bonacci, Mathew Dal Cin and Toni Sergi, got the crowd dancing with some Italian classics.
However, the performance that attracted the largest audience of the day came from the students of the Italian Bilingual School (IBS).
CO.AS.IT., who has been part of Norton Street since 1998, was honoured to once again represent the Italian community at the festa.
"We're thrilled to play a key role in this year's festa as a Platinum Sponsor," president Lorenzo Fazzini said.
"We strongly identify with the community values and vision of the festa which reflect our own, drawing on the Italian heritage of Leichhardt to support the local community.
"This year is a big year for CO.AS.IT. as it marks our 50th anniversary."
The CO.AS.IT. stage also hosted speeches from the official guests including Fazzini, Clr Lucille McKenna OAM representing Inner West Council, Jamie Parker MP Member for Balmain, Mark Chapman President of Leichhardt & Annandale Business Chamber and Senator Francesco Giacobbe OAM representing Oceania in the Italian Senate.
"We support the Norton Street Italian Festa and we look forward to working with local businesses to continue expanding the Leichhardt community," McKenna said.
"I had a great time meeting and chatting to locals at the Norton Street Festa this past weekend," Parker said.
"I always love getting out and about and hearing about the successes, issues and concerns of our community."
"CO.AS.IT. is a fantastic organisation that does so much for the Italian community," Giacobbe affirmed.
"Thank you to Lorenzo and the team at CO.AS.IT. for inviting me to be a part of this year's festa."
The CO.AS.IT. team was out in force to help promote the Italian language and culture in NSW and the stall was busy all day with enquires about language classes, aged care services and much more.
"We have an outstanding team and I would like to thank all staff who volunteered to be part of this great day," Fazzini said.