Due to the current restrictions in Greater Sydney, Term 4 classes will be held online. For more information, please click here
Explore the world of Italian language and culture. Our Italian classes for adults cater for all levels from absolute beginner to advanced learners. Our qualified, native teachers guide you in learning to understand Italian and speak it fluently.
All learning materials are provided, including a free online learning portal with access to a tutor, a discussion forum, a media library, grammar reference tools and listening exercises. Also enjoy three 1 hour free online conversation classes and one free online cultural event.
You can learn Italian in one of our three convenient locations; Leichhardt, Meadowbank and Sydney CBD.
Enrol now for an all-inclusive Italian language learning experience.
Course levels and modules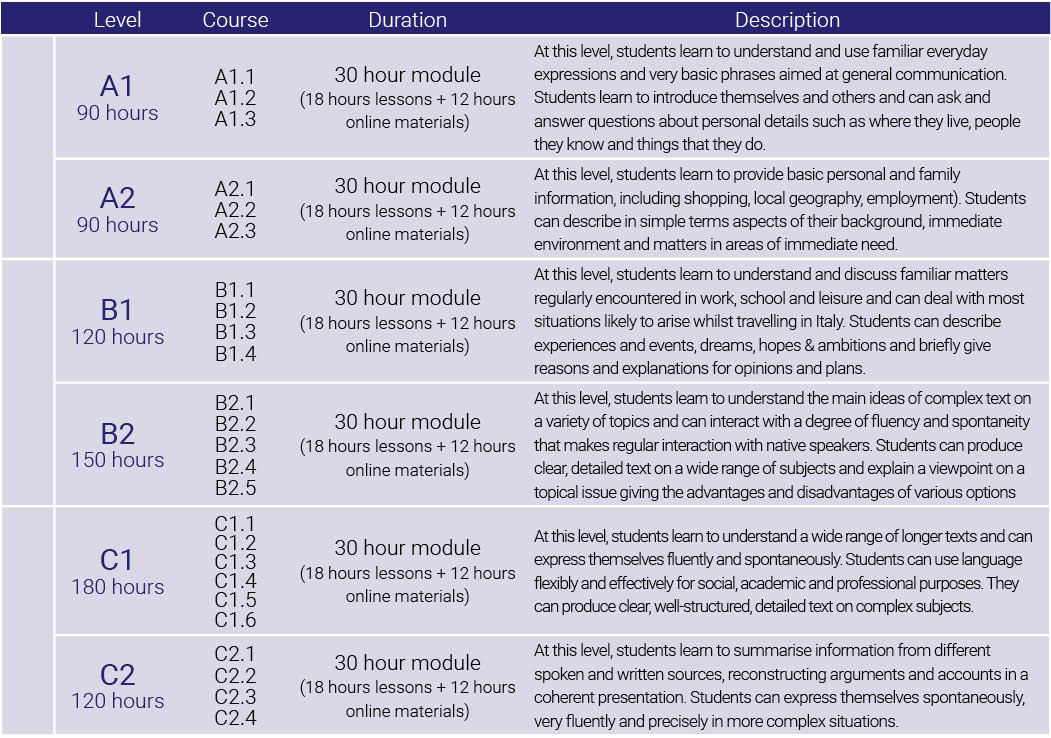 Course Features
Free Online Conversation Classes
Our free online conversation classes are designed to improve your communication skills in a natural, fun and engaging environment. New language introduced in online lessons is reinforced in guided conversation classes with native Italian teachers experienced in developing speaking fluency.
Learners can register for conversation classes in Week 3.
Free Online Cultural Events
 Co.As.It. offers free online cultural events which highlight the influence of Italian culture in the world of music, film, art, literature and design. Our experienced presenters will make you feel comfortable and inspired by cultural activities, such as taking a Virtual visit to the Uffizi Gallery with an online guide.
Learners can register for cultural events in Week 3.
Additional course features
Online Learning Portal
Co.As.It.'s online learning portal is designed to provide you with direct access to a number of interactive resources created by qualified professionals. The online learning environment supports and consolidates language learning by providing access to:
Online learning materials to help you revise and consolidate content covered during lessons
Audio files designed to improve listening skills
A Grammar Reference section to help you master Italian grammar
A forum moderated by an online tutor where you can ask questions and discuss topics
How to access the online platform?
You will receive your username and password upon commencement of your course. As soon as you receive your username and password, visit coasitonline.org.au and explore the course content.
Online Media Library
Co.As.It. offers access to a comprehensive online media library with more than 30,000 titles designed to improve reading, listening and speaking skills. You can access the online media library to download Italian books and newspapers to your computer or mobile device.
Instructions on how to access the library are provided upon commencement of your course.
 2021 Term 4 dates
Monday 11-Oct   6-Dec
Tuesday 12-Oct   7-Dec
Wednesday 13-Oct   8-Dec
Thursday 14-Oct   9-Dec
Friday 15-Oct   10-Dec
Saturday 16-Oct   11-Dec
Please note that levels taught each day/evening change from term to term according to demand and teacher availability.
Early bird special – Enrol by 30th September and receive a 5% discount